ISWS # 2016-595/04
UKC # A973,021
microchip ID: 900108001873792
Health Testing
Collie Eye Anomaly (CEA) DNA result = clear by parentage
Eye Examination = Pending
Copies of test result below. Click to open thumbnail.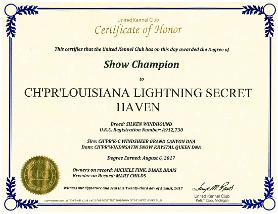 UKC Ch. 'PR' LouisianaLightning SecretHaven
Louisiane
Bred by: Mary Child & Michele Fink
Owned by: Michèle Fink and Diane Brais
Born: April 03, 2016
Sire: Ch'PR' K-C Windsheer Grand Canyon
Dam: GrCh'PR' Windnsatin Snow Krystal Queen
Louisiane goes Best of Breed and group 4th on July 15, 2017 at the Maple Leaf Kennel Club UKC show in Elginburg, Ontario under judge Darryl Hurst. Then on July 16, 2017 she goes Best of Breed and group 4th under judge Phil Wendling.