Chinese Crested Puppies born January 28, 2011/Chien Chinois à Crête née le 28 janvier 2011
Ashley is the proud momy of 6 lovely puppies. She had 3 boys and 3 girls. The 3 boys and 1 girl are hairless and there is one powder puff and one hairy hairless girl.
Ashley est fier de nous présenter ses 6 petits bébés. Elle a eu 3 petit mâles et 3 femelles. Les 3 garçons sont nue poils ainsi qu'une des filles. Une des deux femellesne houpette l'autre une nue poilue.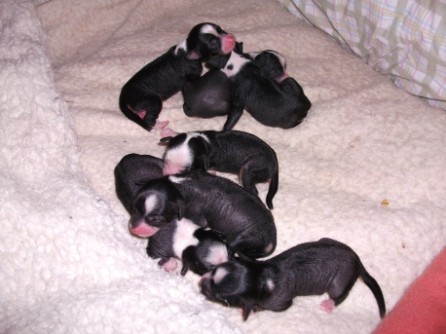 The puppies are already four weeks old and are showing promise!!!!
Ils ont déjà quatre semaines et font preuvent de potentiel!!!!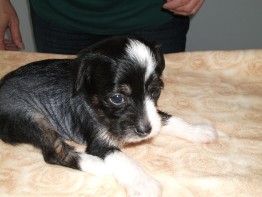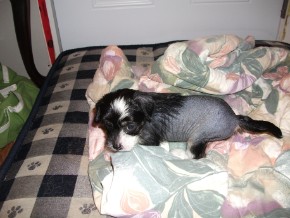 SecretHaven The Fun Begins (Merlin)
Hairless male - Hopeful
pictures at 3 weeks and 5 weeks
Mâle nue - Qui Promet
photos a 3 semaines et 5 semaines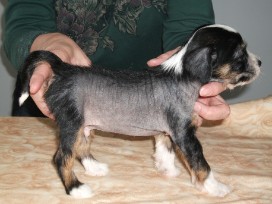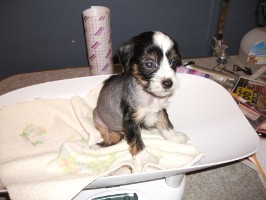 SecretHaven Un Flirt Avec NuPoil (Caleb)
Hairless male- Future Hopeful
pictures at 3 weeks and 5 weeks
Mâle nue - futur espoir
photos a 3 semaines et 5 semaines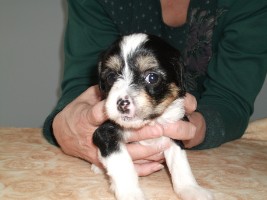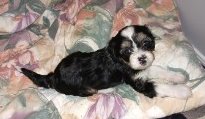 SecretHaven Celestial Shine (Celest)
Hairy hairless female
pictures at 3 weeks and 5 weeks
Femelle nue-poilue
photos a 3 semaines et 5 semaines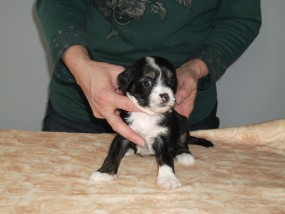 SecretHaven FromLoca W Love (Grace)
Female Hairy Hairless-available
pictures at 3 weeks and 5 weeks
Femelle nue-poilue -disponible
photos a 3 semaines et 5 semaines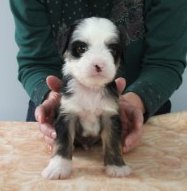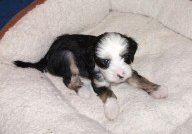 SecretHaven Pop Eye View (Popeye)
Male Hairy-hairless - available
pictures at 3 weeks and 5 weeks
Mâle nue-poilue - disponible
photos a 3 semaines et 5 semaines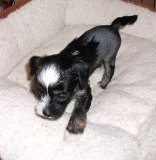 SecretHaven LightMyFire NuPoil (Phoenix)
Female hairless - future hopeful
pictures at 3 weeks and 5 weeks
Femelle nue - future espoir
photos a 3 semaines et 5 semaines